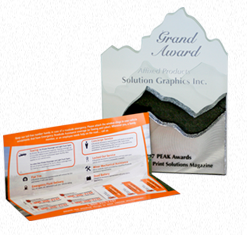 Recognition
Hastings Mutual Insurance Company called upon Solution Graphics to design, manufacture and fulfill a marketing collateral package announcing their new Roadside Assistance Program.   With a variety of policy holder needs in mind, we developed an affixed component brochure which enabled their customers to utilize a static cling window decal, wallet membership card and a convenient plastic keychain key tag  to access an important roadside assistance phone number at all times.
Solution Graphics' unique design incorporated components produced at four unique specialty manufacturers within a single, easily fulfilled package while maintaining a consistent brand image across each item.  Our solution won the Grand Prize for Affixed Products at that year's PSDA Peak Awards competition and has been replicated by several other companies since.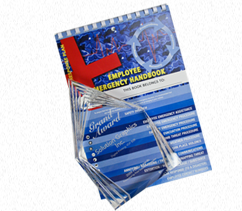 Recognition
Metavante Corporation's secure processing facility required a quickly accessible and easy to use printed piece for all employees to access in the event of a multitude of potential emergencies.  Solution Graphics designed a flip chart to be hung in each employee cubical, incorporating a unique stepped index of potential threats, using both words and icons to quickly access the appropriate safety instruction.
Our piece was unique in both design and construction, utilizing the latest color digital printing capabilities to print individual pages which could easily be replaced with new or additional pages in the future.  A unique plastic comb binding process allowed for future page changes while maintaining the structural integrity of the item.
Our Solution won the Grand Prize for Variable Data Printing at that year's PSDA Peak Awards competition.